The way people buy products and services these days has changed. Your customers are no longer easily swayed by flashy advertisements but spend over 57% of their time doing online research before they even contact you. What this means is that you need to focus on developing a lead generation strategy that will give them what they want so that you are top of mind when they begin to consider who to purchase from.
In this guide, I've put together 25 different lead generation strategies for saas startups that you can use to bring in new leads to your website and, eventually, convert them into customers.
I've worked internally at several tech startups and written for over 200 publications. I would be happy to have a 15-minute coffee chat to help you with developing lead generation strategies.
Ok! first things first. What exactly is a lead?
A lead is essentially a person who has shown interest in your product or service in some way, shape or form. However, he or she is not yet really set on making a purchase, so that means that you'll need to educate and nurture them so that he or she will become a customer.
Here's an in-depth look at today's lead generation ecosystem.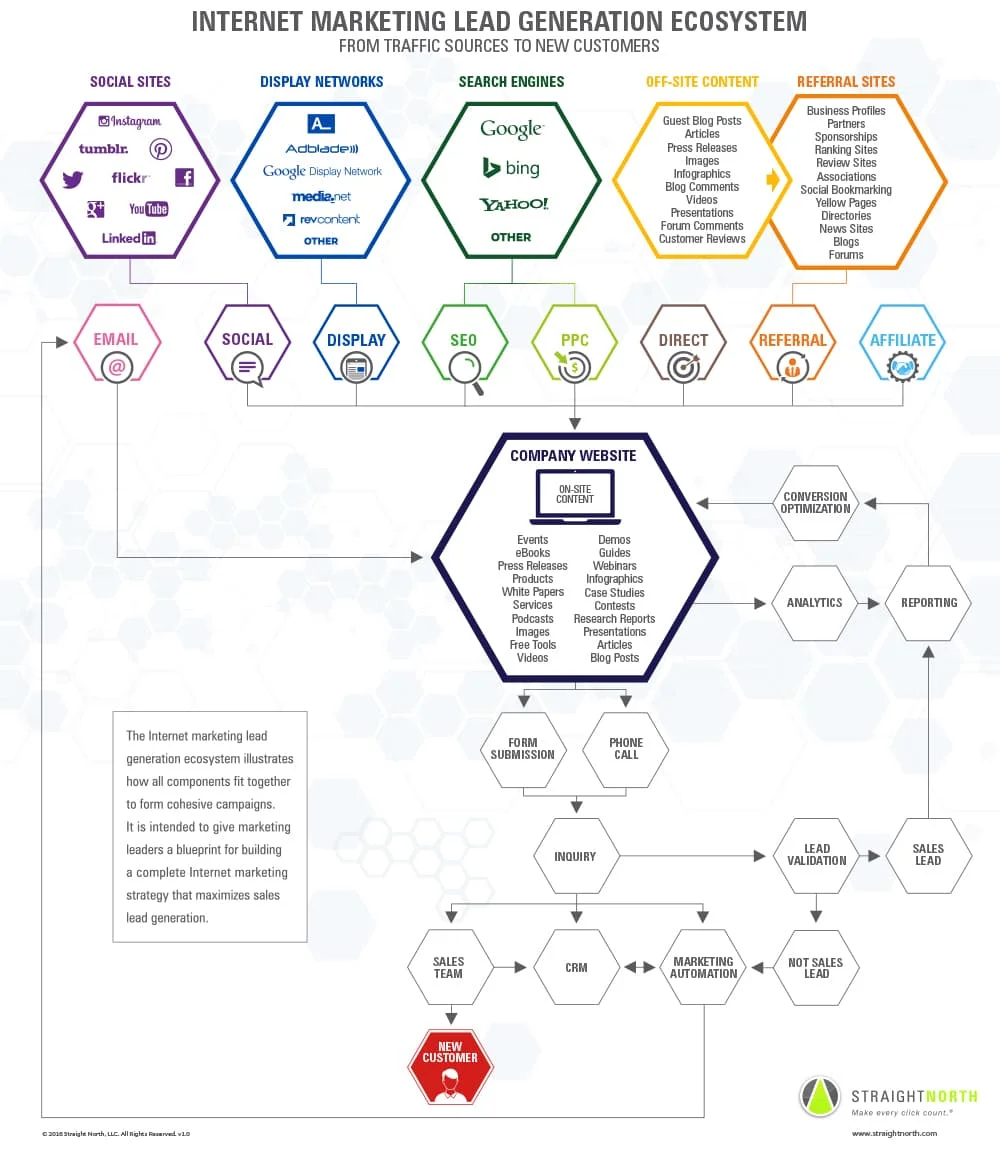 Without properly doing lead generation website visitors come to your website and leave, why not capture their information? And with that, here are the 25 different lead generation strategies I've promised.
1. Set S.M.A.R.T. goals
Before you sit down and create any lead generation strategy for your SaaS startup, you need to have a goal. Not just any goal. It has to be a S.M.A.R.T. goal.
S.M.A.R.T. is an acronym that stands for specific, measurable, agreed, realistic, and time-bound. These are the characteristics that make a goal clear and achievable.
Setting S.M.A.R.T. goals is important because it serves as a guide for everyone involved to create the necessary steps to achieve it.
To find out if the goal you've set for your SaaS startup is a S.M.A.R.T. goal, ask the following questions:
What is it that you want to achieve? (Specific)
What is your benchmark to say that you've reached your goal? (Measurable)
Do all your stakeholders agree? (Agreed)
Do you have the financial, human, and technology resources to reach this goal? (Realistic)
When should you achieve this goal? (Time-bound)
Here are some examples of S.M.A.R.T. goals to help you get a better idea:
Generate 300 new leads by the end of 2017. 
Increase sales conversion from email subscribers by 10% by the end of Q1 in 2018.
2. Track your lead generation strategy's KPIs
Key performance indicators, or KPIs, are metrics that help you check the performance of your lead generation efforts against the S.M.A.R.T. goal you've set. They tell you which of your strategies are working and which ones need to be adjusted or improved.
This can help you figure out what you need to do to improve your lead generation business model. This, in turn, can help you generate more leads for your brand.
Here are some of the most common lead generation KPIs you need to track:
Organic traffic. Ask any inbound marketer, and they'll tell you that this is the best type of traffic to get to your website. That's because this kind of traffic is made up of people that get to your site by searching for answers to their problems.
Traffic-to-lead ratio. This KPI tells you the percentage of organic, direct, social media, search engine, referral, and paid traffic to your website converts into new leads for your business. Ideally, you should see a direct ratio happening between your website traffic and lead conversion. That means that the number of new leads you get should increase as your website traffic increases. If you have a lot of traffic going to your website but aren't generating a lot of leads, then it's a sign that you need to audit your website user experience.
Landing page conversion rates. This tells you what amount of traffic visiting your site's landing page converts into new leads for your business.
Clickthrough rate. This KPI not only tells you the number of people that click on a link on your landing page or email to learn more about what you have to offer but also which link is performing the best.
Bounce rate. Your site's bounce rate is another important KPI because it tells you the number of people that leave right away without visiting other pages of your site. This is one of the KPIs you don't want to have a high number. In fact, the lower your site's bounce rate, the better because it means that you've been able to capture your audience's attention to the point that they'd like to learn more.
Cost per lead. As its name suggests, this KPI tells you how much you invest towards human resources, technology and other resources you use to generate one new lead for your business.
There are lots of different software programs you can use to help you measure your lead generation KPIs. I use Databox to track my growth marketing ROI because it's still one of the best and most reliable analytics tools out there.
3. Have a clear buyer persona
Your SaaS startup's buyer persona is essential to generate leads successfully. Your buyer persona will give you a clearer, more concrete insight into customers' pain points, interests, aspirations, and buying behaviors. These will, in turn, allow you to reach out to your clients and pique their interest enough that they're willing to give you their contact information to find out what you have to offer.
It's important to point out that you don't have to limit yourself to just one buyer persona. In fact, it's perfectly common for SaaS startups and other businesses to have multiple buyer personas, depending on the product they offer. Just make sure that they're related to each other in that they share at least one trait so to ensure they all fit your brand.
4. Create your buyer's journey from their perspective
Even if your SaaS startup is targeting companies involved in marketing, it's important to remember that they're looking for solutions to their current problems or issues. If you want to successfully convert them into leads, you need to provide them with a sound solution.
Focus your inbound lead generation strategies to cater to each of the different stages of the buyer's journey:
Awareness Stage. Your buyer discovers a pain point or challenge and is looking to learn more about it.
Consideration Stage. Your buyer understands the pain point or challenge and is now looking for possible solutions.
Decision Stage. Your buyer now has a shortlist of possible solutions and is now deciding which is the best option.
5. Do your keyword research
A keyword is a word or a string of words people use when they want to find something on the Internet. It serves as the bridge that will take your target customers to different pieces of content on your company's website or blog.
The first step when doing keyword research is to come up with a list. Here are some tips to help you build a list of keywords to use for your lead generation campaigns:
Think like your customer. Put yourself in your client's shoes and ask yourself what words and phrases will you type in to search for a product or service.
Target specific customers. For example, if you're offering accounting software, include in your list keywords like "small business accounting software," "accounting software for non-accountants," and "accounting software for startups."
Include general terms. Although long-tailed keywords are more effective than general keywords, including these to your list can help you reach potential customers that you may not necessarily consider.
Once you have your list of keywords, the next step is to check which ones you'll use for your lead generation strategy. For this, you'll need to use a keyword research tool like Google Keyword Planner, SEMRush or Moz.
When doing your keyword research, there are three things to look at to find the best keywords to use for your lead generation campaigns:
Monthly search volume. This is the average range of people that use a particular keyword to search for something in a month. I usually choose long-tail keywords that have a monthly search volume of at least 50.
Keyword Difficulty. This tells you how stiff the competition will be regarding ranking for a particular keyword. SEMRush and Moz puts a numerical value here, so they tend to be more precise compared to Google Keyword Planner, which ranks the competition levels either Low, Medium or High.
Domain Authority. This is an add-on that I found using the Moz keyword research tool. This is essentially a scoring system Moz developed that gives an estimate of how well you'll rank on the search engine results page (SERP).
Most would stop here. But SaaS startups that are extremely successful with their lead generation campaign take this a step further. Rather than write up content based on the list of keywords they got, they take this list and use these on sites like Quora and Answer the Public.
The reason is simple: keyword research tools only provide you data on what are the most commonly used keywords your customers use to search the Internet. They don't tell you the specific questions they're asking and want to be answered.
Sites like Quora and Answer the Public help fill in that gap by giving you insight into the common questions and problems your target customers wanted to be answered or solved. You can then use these to create content to use for your inbound marketing campaign to generate leads.
6. Perform On-Page SEO
One misconception that's becoming increasingly popular among inbound marketing newbies is that SEO is no longer important, especially with all the recent updates Google did on its algorithm. All you need is to make sure that you churn out quality content and the people will eventually come.
While I completely agree that you must make sure to create quality content, you still need SEO on your site, especially if you want to generate leads for your SaaS startup.
SEO, short for search engine optimization, is a set of guidelines to make it easier for search engine bots to find your site so that they can display it on their Search Engine Results Pages (SERPs). No matter how great your content is, if the search bots can't find it, your target audience won't be able to read it.
One way on how to do on-page SEO to your website is to use meta tags. There are two very important meta tags to take note of when doing on-page SEO:
Title Tags. Your title tag tells search engines how to display the title of your page or article in their SERPs. Make it a point that your title doesn't exceed 160 characters.
Meta Description. Meta description tags are what make or break a lot of sites listed in SERPs. It's also one of the key factors that search engines use to determine your site's listing on their SERPs. Keep this short and sweet since search engines only allow a maximum of 160 characters for meta description tags.
7. Optimize your website's speed
Your website only has 3 seconds to load. Any longer than that and you won't only lose a potential customer, but will end up hurting your search engine rankings. Taking steps to improve your website's loading speed even by just milliseconds can have a positive impact on both your lead generation and sales conversion rates.
This was what happened with Walmart. After overhauling their website to improve its loading speed, they observed a 2% increase in sales conversion for every 1 second of improvement and an incremental revenue increase of 1% for every 100-millisecond improvement on their loading speed.
If you're not quite sure about your website's loading speed, you can use this free tool to check it out.
8. Make sure your website is mobile-friendly
62% of Americans who own a smartphone use this to surf the Internet. If you want to generate leads for your SaaS startups, it's essential to make sure that your website is mobile-friendly.
If you don't have a web developer to create your company's website, make sure that you choose a site theme that's responsive. What that simply means is that the theme automatically adjusts itself depending on what device your customer is using to visit your website so that it loads faster and it's easier for them to navigate.
Another is to use Click-to-Call links on your site instead of the conventional call-to-action buttons. This makes it easier for them to get in touch with you when they want to learn more about your product.
9. Create a video for your product
Instead of creating a standard FAQ section for your SaaS product, consider instead creating a video to showcase your product and answer the most common questions about it.
Videos are fast becoming the most popular type of content today. According to E2M Solutions, 92% of B2B marketers leverage videos for their lead and demand generation campaigns.
Part of the reason is that 65% of people are visual learners, meaning they understand things more quickly when it's presented to them using audio-visual tools like videos and images. Creating a video explaining your product allows you to reach these people who you won't be able to reach even with a well-written copy on your website's landing page.
Videos can also help you start building trust with your potential customers. When they see and hear someone from your company speaking about your product, they feel more at ease to do business with you, which is why product explainer videos can help you generate 33% more leads.
10. Write quality blog posts
Having a blog on your website is another powerful way to generate leads for your SaaS startup. It gives you a platform to establish your business as an authority in your niche by sharing your expertise and providing your customers with your most pressing problems.
Consistency is the key to making your blog an effective lead generation tool. Ideally, you should be able to post quality articles three times a week. Guest posting has allowed me to increase my brand awareness and get published on sites such as HubSpot, Creativelive, & Blavity.
When using blog posts to generate leads, make sure to strategically incorporate call-to-action links within your content. When Precision Marketing Group decided to use the ramp up the number of blog posts to generate new leads, they made sure that each content didn't only provide high-value content, but also had three call-to-action links strategically incorporated in each of their posts.
By doing this, they provided enough "bridges" to take their visitors into their landing pages. As a result, Precision Marketing Group increased the number of new leads they generated by 259%.
I've written for over 200 publications. and would be happy to have a 15-minute coffee chat to discuss your content marketing strategy.
11. Write guest blog posts
Yes, you read that right. Contrary to what a lot of inbound marketers may think, guest blog posting isn't dead. In fact, Ahref released did an industry-wide survey and discovered that the majority of those that responded still use guest blogging to drive traffic to their websites as part of their lead generation campaigns.
Here are some suggestions to effectively use guest blogging to generate leads for your SaaS startups:
Choose the right site to post your guest blog. Make sure to review the site to see if the readers match your buyer persona. This will help you make sure that you drive the right traffic in your site's direction.
Go for sites with high domain authority. Sites that have a high domain authority rating are those that search engines deem to be of high-quality. Having a backlink from this site to yours will improve your search engine ranking. This will help your website move up in SERPs. Moz has a free domain authority checker to help you find these kinds of sites.
Provide high-quality content that will benefit the site. When pitching your guest blog post idea, make it a point that your article will provide their audience with just as much value as you would give on your website. Doing this will not only increase the chances for your guest blog pitch to be accepted, but it can open up an invitation to write another guest post for them in the future.
Ever had a dream of getting published in Forbes or Inc.? I've written for over 200 publications. and would be happy to have a 15-minute coffee chat to discuss your guest blogging goals.
12. Create gated content
Another way to generate leads for your SaaS is to create gated content for your premium content offers.
Gated content is essentially any premium content on your blog or website that your visitors can only access by providing their contact information. Examples of these are white papers, video tutorials, and even in-depth articles.
For this lead generation strategy to become successful, it's important that your visitors know what it is that they'll be getting. This was an important lesson that Wistia learned when they used gated content for their lead generation campaign. When they first launched their gated content, visitors were led to a landing page where they had to put in their email address to access their Video Marketing 101 series. This resulted in a 6% lead conversion rate.
The second time they used gated content to generate leads, they used their custom Turnstile tool and overlay the lead generation form on top of the video.
This change in format made it easier for their visitors to know what it is that they're going to receive. As a result, their lead conversion rate increased by 11%.
I've written for over 200 publications. and would be happy to have a 15-minute coffee chat to discuss your content marketing strategy.
13. Offer a free trial to generate leads for your SaaS startup
Offering your customers complete access to your product for a limited time in exchange for their contact information is another powerful lead generation strategy for SaaS startups. That's because this gives your visitors the opportunity to test the full potential of your services for themselves, thus helping them make their decision.
This was what happened with SAP SE. In 2016, SAP set a goal to generate 300 new leads within the ASEAN region for their SAP Business One business management (ERP) system. For this, they created a lead generation campaign offering visitors 30-day free trials. The result was that they generated 3,700 new leads, exceeding their original goal of 300. At the same time, they also reduced their cost per lead by 88.5%.
14. Host webinars
According to the Content Marketing Institute, 60% of marketers are now using webinars as part of their inbound marketing campaigns.
Customers find it appealing because they're able to get access to a tutorial, workshop or course that will give them actionable steps to solve a problem without paying for it. Marketers find it effective since one webinar can quickly convert 20-40% of the attendees into qualified leads for their product or service because it not only gives them the chance to demonstrate how their product or service works in real-life scenarios, but also the opportunity to dispell any objections and questions customers may have.
The biggest challenge when using webinars as a lead generation strategy is attendance. Studies show that only 40%-50% of those that registered for a webinar attend. The number further diminishes as the webinar progress.
Here are ways to increase the effectiveness of using webinars as a lead generation tool:
Offer a bonus at the end. Attendees will be willing to stay longer if they know that they'll receive high-value content just for staying up until the very end.
Don't mention anything about your offer until the very end. This is one of the biggest mistakes people make when using webinars to generate leads. Your visitors signed up for your webinar expecting to learn something. Once they get an inkling that they'll be sold something, they'll start leaving.
Send multiple reminders. People are busy, and even though they have every intention to attend your webinar, they can forget. Sending them a reminder, a day before and an hour before will increase your webinar's attendance rate.
Use scarcity. Letting your attendees that there's only limited space and that the webinar will not be recorded can help increase their chances of showing up earlier and staying until the very end.
15. Practice lead nurturing
Lead nurturing is the process where you start building relationships with customers in every stage of both the buyer's journey and sales funnel by constantly communicating using the relevant content.
This is a very powerful lead generation strategy because this gives you the opportunity to build trust and credibility with them by showing that you're an expert in your niche by keeping constant communication with them. According to a study by Genius.com, 66% of buyers point to receiving consistent communication as one of the major influencers for them to choose a service provider.
16. Use LiveChat on important pages of your website
LiveChat's been around for a long time, but it's only recently when marketers are starting to see the true potential of this software, especially when it comes to generating leads and sales conversion.
LiveChat was instrumental in helping Hygenia increase the number of inbound leads they generated by 38%. Since LiveChat allows one customer representative the ability to conduct up to four conversations at the same time, Hygenia was able to address more visitors while reducing the amount of time each potential lead had to wait for someone to respond. This quick response rate allowed Hygenia's customer reps to engage with visitors while they're still very much interested, making it easier for them to convert them into leads.
17. Use CTAs in your email signature
When marketers think of using emails for lead generation, they immediately think of creating elaborate email drip campaigns. That's all good, but even sending a simple email can do wonders when it comes to generating leads for your SaaS startup.
According to the Radicati Group, a person carries an average of 34 business-related emails per day. Replacing the URL address of your SaaS startup with a cleverly written call-to-action will not only help further expand your reach, but it will also help peak the interest of your email, encouraging them to click to learn more.
18. Repurpose your content
If you had content that did really well regarding generating leads for your SaaS, you could further capitalize on that by repurposing that content.
This is one of the many ways how Hubspot continuously provides quality content for generating leads. One such example was when Hubspot conducted a case study on 14 different companies to highlight the advantage of using their services. They initially published the content in 2013 and had since received a total of over 2,000 views. Since it was initially posted as a blog post, it became time-sensitive.
To leverage this piece of content, Hubspot repurposed this as a responsive content. By doing this, they not only made the content evergreen but also provided them another opportunity to generate leads by incorporating a form into the content should the visitor want to download a copy.
Next, they repurposed the content by converting this into an episode the Grow Your Business with Rick Kranz podcast hosted by Hubspot's President. About 400 people listened to the episode.
Hubspot repurposed again the same content by using the data they gathered from the case study to create an infographic.
Finally, they transformed the content into an ebook, which they now use as a resource offered to continue generating leads from it.
19. Distribute content via social media 
Social media is a great place to generate leads because it gives you the opportunity to connect and engage with your customers on a personal level. According to a study done by the Content Marketing Institute, 92% of B2B marketers prefer distributing content on social media compared to other platforms.
One SaaS company that benefitted from using social media for lead generation is Host1Plus. Instead of just simply promoting their web hosting services, Host1Plus reaches out to their potential leads by giving advice and serving as a resource to build engagement. They also use special features such as mentions so that they can reach out to their brand ambassadors to express not only their gratitude but also as a means to expand their reach on social media.
When it comes to SaaS startups, I find LinkedIn to be the best social media site for lead generation. That's because LinkedIn is used by professionals who are looking for companies to do business with.
20. Partner with SaaS companies 
Partnering with an established SaaS company is a great way to generate leads because it opens the door for you to receive qualified leads referred by the SaaS companies you've partnered with.
I partnered with Rep which is a leading influencer marketing platform to complete a Content Co-marketing Campaign. This created a win-win relationship because we both promoted the content heavily via social media and shared the content through our email lists.
21. Establish trust with testimonials
Despite all the different kinds of marketing strategies out there, nothing beats good old-fashioned word of mouth. Including testimonials on your website's landing pages with headshots from your existing customers replicate the power of word of mouth help develop a level of trust and security among your target audience, which will then, encourage them to provide their lead information.
22. Use Google AdWords 
Although using Google AdWords may be a bit on the expensive side for SaaS startups, it's still a worthwhile strategy to invest in if you want to generate leads successfully. Using the right keywords and meticulous planning, Google Adwords can position your ads so that they can easily attract potential leads who are actively looking for your product or service.
23. Perform influencer outreach
When it comes to targeting influencers to generate leads, many SaaS startups make the mistake of only targeting those that belong to the software niche. If you want to build a powerful lead generation campaign for your SaaS startup, extend your influencer outreach to those that represent your ideal customers. Not only are these the closest to your buyer persona as you can get, but also they're authorities that your customers respect and listen to, especially when it comes to recommendations on tools and strategies to use.
That was the case with Aegora. While the company offers businesses a marketplace to find talents to hire, it didn't reach out to human resource managers or recruiters. Instead, they created a lead generation strategy targeting entrepreneurs, subject matter experts, and consultants. This influencer marketing campaign generated 500 new leads for the company as a result.
24. Conduct Split Testing
Before posting anything on your site, whether it's a landing page or a blog post, make it a habit to do a split test before hitting the Publish button. Neil Patel says it best:
Split testing, otherwise known as A/B testing, allows you to compare two different layout designs that have the same content to find the one that will generate the most amount of leads.
According to MarketingProfs, 50% of B2B marketers said that split testing is the most efficient methods for optimizing your website to get the highest conversion rates possible. At the same time, it will also help you minimize the bounce rate in the different pages of your site, which can affect your search engine rankings.
This was how Tandberg solved its problem with lead generation. Although they're already a leader in teleconferencing, they were struggling with generating leads from their website. By conducting several split tests of different layouts of their homepage, Tandberg's new CTA design yielded an increase in lead generation by 50% within 30 days.
25. Give Click Pop Ups a Try 
Last, but not the least, in our list of powerful lead generation strategies for your SaaS startup is to use click pop-ups.
Although entry, exit, and scroll pop-ups are still helpful, click pop-ups are proving to be the most efficient type of pop-ups when it comes to lead generation. That's because of the different types of pop-ups, click pop-ups are the least intrusive, so your visitors will not feel that they're being forced to provide their lead information.
This was what Wishpond discovered when they implemented click pop-ups on their site. After running a 4-month lead generation campaign using click pop-ups on their blog posts, they found that click pop-ups yielded an average conversion rate of 54.84% while their landing page only had an average conversion rate of 27.47%.
Final Takeaway
There you have it. Now you have different strategies that you can apply to your SaaS startup to start generating leads. And while these strategies can deliver results on their own, don't hesitate to combine some of these strategies. Keep testing to find which inbound lead generation strategy best works for you.
I've written for over 200 publications. and would be happy to have a 15-minute coffee chat to discuss your guest blogging goals.